Single post
I'd not used the traceroute program before.
The quickest description you can find for it is "a network diagnostic tool".
To understand how it works requires a brief understanding on the way the internet works.
When you type in a web address to your browser, the computer sends a request to a "name server" which holds a table of domain names (such as www.google.com), with their corresponding I.P. address (8.8.4.4, which is like the corresponding telephone number).
When your computer tries to reach a given address, there may be any number of intermediate machines in between. Your computer will try and find the quickest (which may not be the shortest, physically) route between your computer and the destination. It is also possible to set up a specific series of points from and to any given address.
All this brings us to a rumour I'd heard on twitter. An enterprising fellow called James Renken who was a fan of Dr Horrible's Sing-Along Blog had set up a route to follow a specific path (https://twitter.com/jrenken/status/647489916167782400).
First, enjoy the following video:
Then the following traceroute: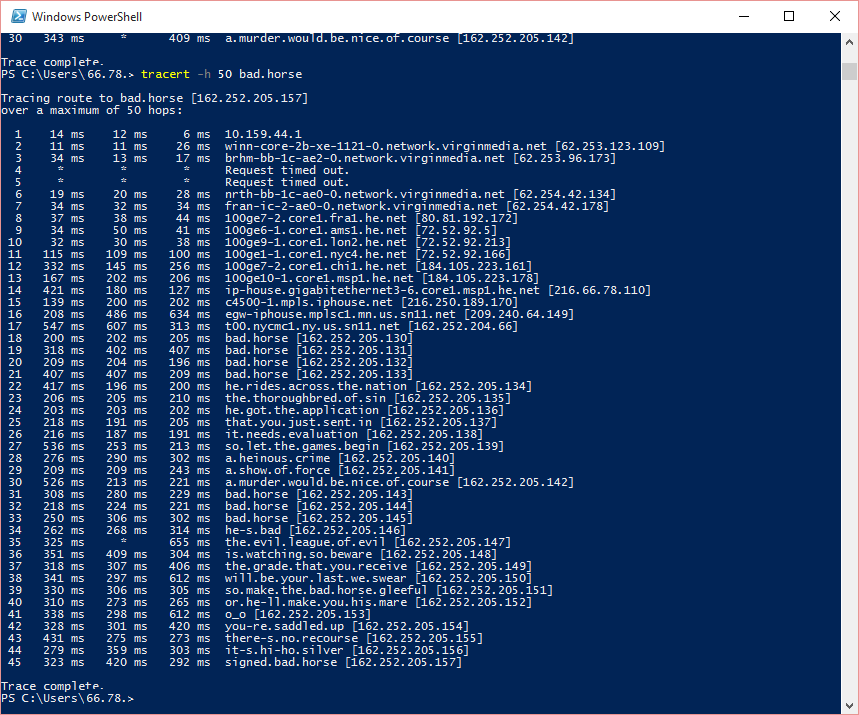 You can try it yourself with the traceroute command, simply open up a terminal window and enter the following command:

Windows: tracert bad.horse
OSX/Linux: traceroute bad.horse

Enjoy!